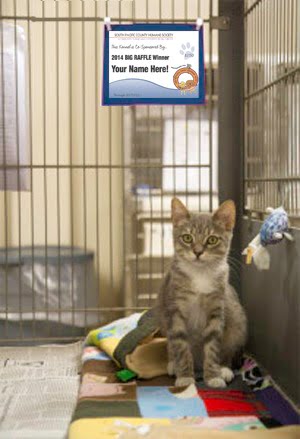 When you sponsor part of a kennel, you help SPCHS No-Kill Shelter to offer second chances to dogs or cats, providing them with food, shelter, and medical care until we are able to adopt them into permanent, loving homes.
This program is not the same as adoption sponsorship, which pre-pays the adoption fee of a pet, making it more attractive to potential adoptive families. Adoption fees don't begin to cover the costs of providing shelter for our pets. Kennel Sponsorship helps to make up the difference.
When you become a sponsor, a personalized plaque is placed on your choice of either a dog or a cat kennel for one year. Plaques can be personalized in your name, your company's name, or in memory of a beloved family member, special friend or cherished pet.
You'll have the pride of knowing that you are supporting a local, effective non-profit, no-kill organization that protects and cares for about 650 homeless animals annually and visitors to our shelter will see your support. Of course, your gift is tax-deductible.
We'll hang a sign on the kennel you sponsor, with your name, business name, or the name of a person or pet you are honoring with this gift. Everyone who visits our Shelter to visit pets will see the sign.
A limited number of kennels are available for this program annually, so reserve yours now!
Get Started Now: